Volvo Penta Easy Connect
Using new technology from Volvo Penta you can now view engine data in a dashboard-style overview straight from your Smart device! All you need is the Easy Connect Interface connected to your engine, the Easy Connect app installed on your Smart device and the data will be transferred via Bluetooth®. Connect while on-board to view engine performance or share data from previous trips with friends from the comfort of your own home.
KEY FEATURES
Add extra value to your boating experience with these features:
Access a portable dashboard display:

Engine RPM
Engine hours
Coolant temperature
Battery voltage
Fuel level *
*if a fuel level sensor is fitted to the engine.

Plan your trips from home
Go back and relive data from past journeys
Interact with your Volvo Penta dealer
Share your experiences via social media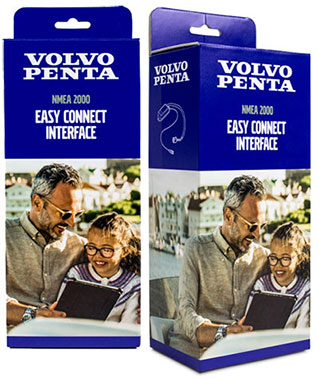 INSTALLATION
The Easy Connect Interface kit includes everything you need to get started and is available for supply through our Essex and Ipswich branches. The Interface itself plugs directly into the EVC multilink at the helm station, or into the engine harness on non-EVC gasoline engines.
If you would like an estimate for one of our mobile engineers to complete the installation, please contact our Service Department.
VIEWING OPTIONS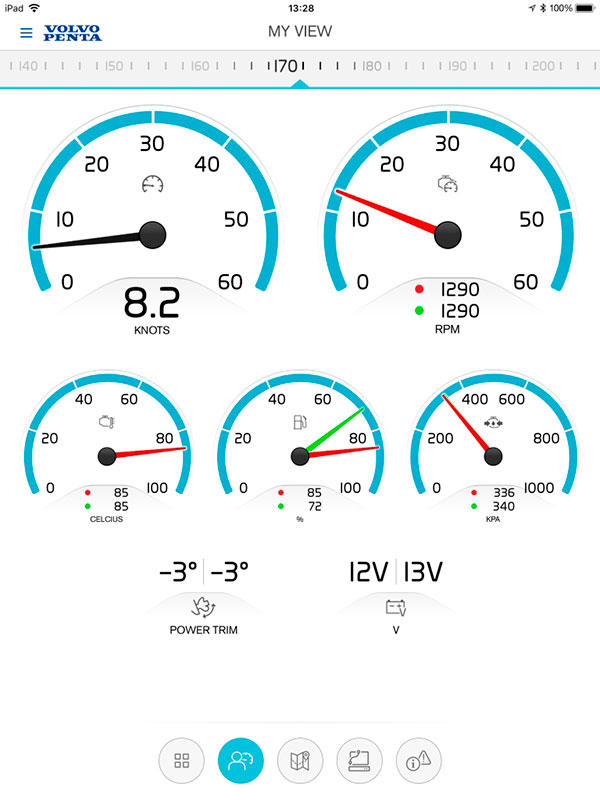 Captain's View (connected)
When onboard, Easy Connect provides a complete view of the boat's vital information in real time. Switch between different menu screens, showing boat speed, engine speed, maps etc. and share your experiences on social media.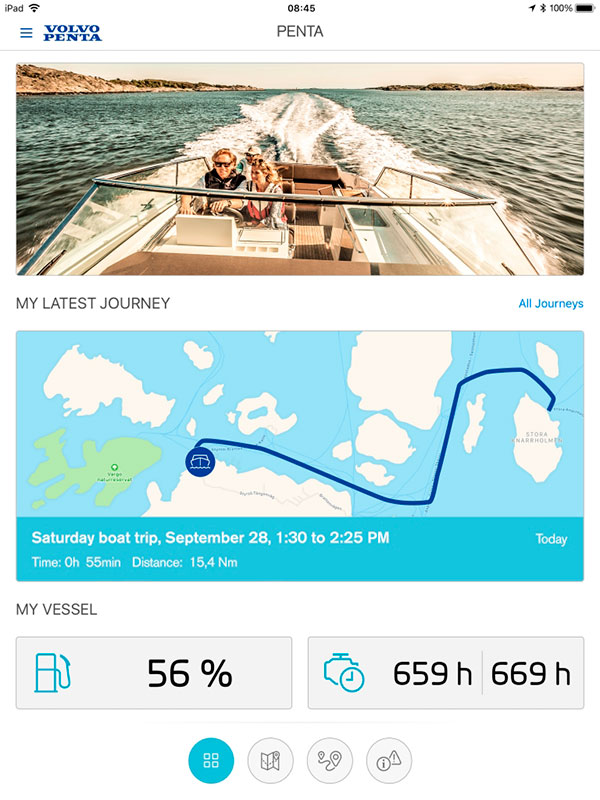 Home View (not connected)
Home view stores your past journeys so that you can recreate them and share on social media. You can also access an overview of key data such as fuel tank level and engine hours, and email engine status to your Volvo Penta dealer.
NMEA Functionality
The Easy Connect Interface includes NMEA2000 functionality. This means it can also be connected to an existing NMEA network within the boat. This enables you to access additional data from i.e. speed and depth sensors.
In addition, the Easy Connect Interface can be used to convert engine data into NMEA2000 compatible chart plotters/multi-function displays onboard.
Compatibility
The application is available for Apple devices with iOS 10 and later. For Android devices, the operating system must be 5.0 or later with Bluetooth® 4.2.
Easy Connect is available for the following engines in single and twin installations:
Diesel Engines
D1/D2 engines produced with MDI (produced in 2007 and later) in single or twin installations*
*Diagnostic trouble codes are not available in the Easy Connect app for D1 and D2.
D3, D4, D6, D8, D9, D11, D12, D13 engines with Electronic Vessel Control (EVC) in single or twin installations*
*Diagnostic trouble codes are not available in the Easy Connect app for engines produced before 2009.
Gasoline Engines
V6/V8 engines (with EVC) in single and twin installations
*Diagnostic trouble codes are not available in the Easy Connect app for engines produced before 2009.
Non-EVC Gasoline engines produced 2006 and later in single and twin installations.
View our Easy Connect Compatibility and Functionality help sheet
Customer Review
This customer testimonial created by Neil Collier of
BlueFoot Travel
describes a selection of benefits that Easy Connect has brought to the company's boating experience. With their yacht 'Nemo' powered by a new D3-110 Volvo Penta engine, BlueFoot Travel offer crewed cabin charters in the Caribbean. Being able to interact closely with their engine via the app allows them to monitor important data and keep engine downtime to a minimum.
For more information on the sailing holidays offered by BlueFoot Travel, click to view their social media sites here:

Purchasing an Easy Connect Interface Kit
Easy Connect is available to purchase over the phone, in our Essex and Suffolk branches and through our online webshop. If you would like any assistance in identifying if your engine is compatible, and what kit will be required please contact our Sales team.
Parts Department
Off Oyster Business Park
Woodrolfe Road
Tollesbury
Essex
CM9 8SE
Tel: +44 (0)1621 869756
Email: enquiries@volspec.co.uk
Shop Opening Hours
Monday - Friday: 08:00 am - 5:00pm
(7.30am for deliveries only)
Saturday - CLOSED