As the weather starts to turn and the boating season finishes, many boat-owners will start to talk about winterisation. What is this, and why is it important? This article will briefly explain the reasons why this end-of-season process must be carried out, and the specific steps our manufacturer-trained engineers follow to ensure that your engines are prepared for winter.
Winterisation – The Basics
If you are not using your boat over winter, you will need to protect your investment against the elements. Engines are designed to be used and need to be carefully prepared for long periods of time sitting idle in cold temperatures. It is also worth remembering that many insurance policies will not cover damage done by lack of maintenance.
The best time to prepare your engines is at the end of the boating season, before the temperature starts to drop, and while the boat is still in the water. This will give you and your engineer plenty of time to follow the basic steps and check for/repair any damages that have been caused over the spring/summer.
Volspec Ltd Winterisation Packages
At Volspec Ltd, we have decades of experience as Volvo Penta experts and have extensive product knowledge of a vast range of other engine brands. Our mobile engineers have winterised boats across the East Anglia region since 1973. Our product expertise and understanding of the local area has allowed us to create 3 winterisation packages to cover all requirements. Below is an overview of the processes that each package consists of: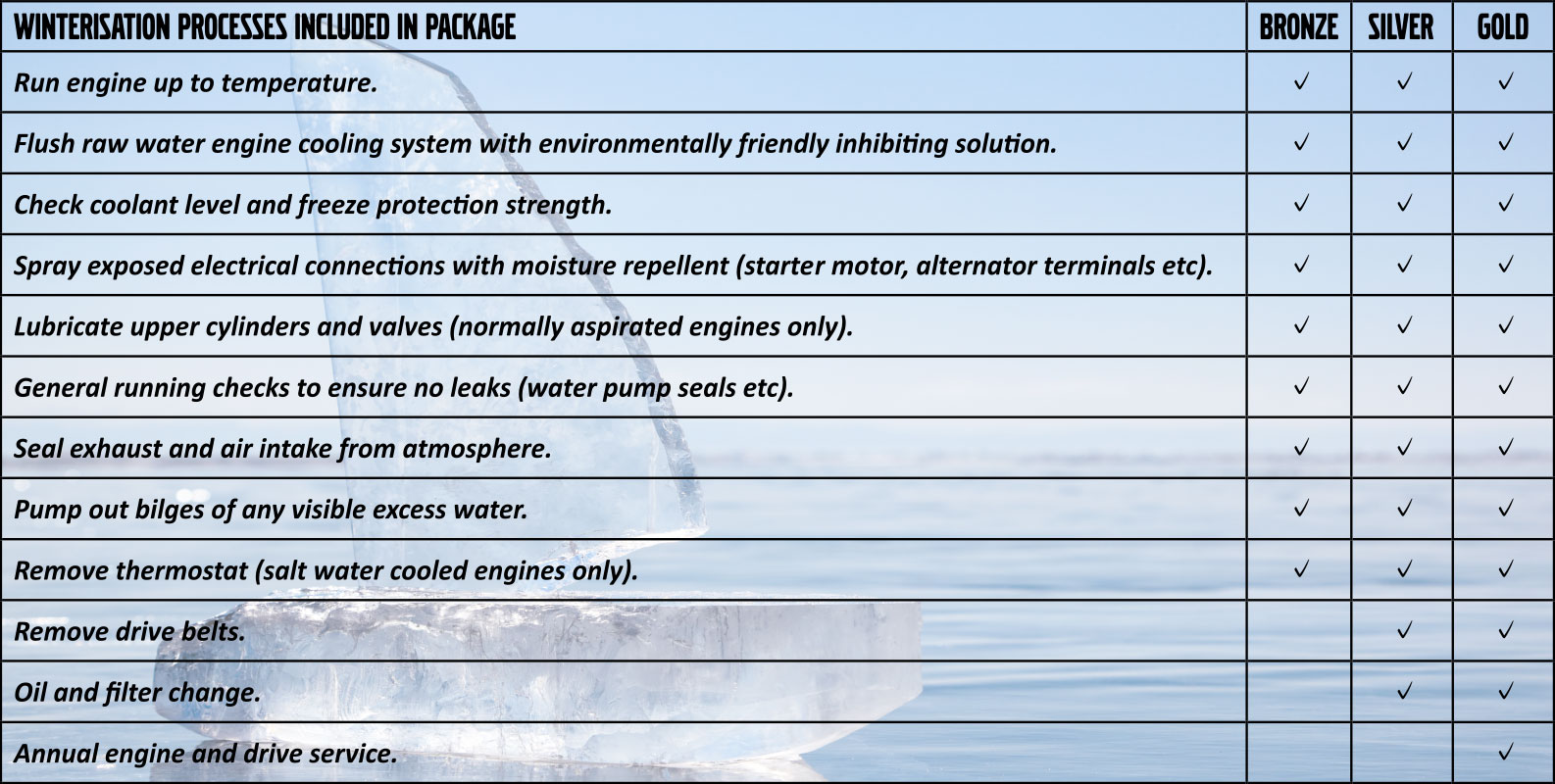 To receive an estimate please either contact us using the contact details below, or simply download and complete our winterisation customer request form and return to one of our branches or email a copy to enquiries@volspec.co.uk.
Other useful tips
Our engineers are trained to take expert care of your Volvo Penta engines. There are some other useful tips that you can consider doing yourself to protect your whole boat from the damaging effects of winter.
Tel: +44 (0)1621 869756
Email: enquiries@volspec.co.uk